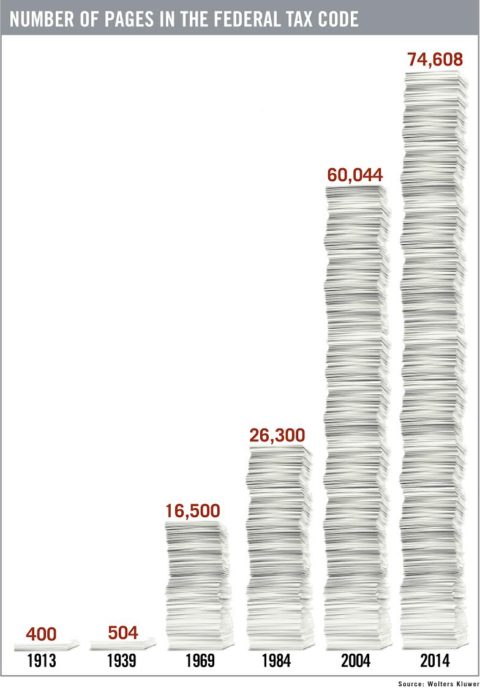 (Photo source: Washington Examiner, Look at how many pages are in the federal tax code, 4/15/16)
Today is Tax Day. A day dreaded by everyone except the government.
Here in Minnesota, we are hit especially hard by our nation's archaic, complicated and excessive tax code. According to the tax collectors themselves, Minnesotans fall among the top three states whose citizens pay the most taxes per person. And just last week, we found out that Minnesota has the 5th highest tax burden in the country.
Simply put: at nearly 75,000 pages, our tax code is out of control. Studies show that the IRS imposes more than 8.1 billion hours of paperwork on the American people and this year, total tax compliance is expected to top $400 billion. Thankfully, help is on the way.
President Trump and Republicans in Congress are committed to addressing our ever-growing tax code and working to ensure you get to keep more of your money – because like I often say, you know how to spend your hard-earned dollars better than Washington bureaucrats.
Tax reform is extremely important to me, and I have made it a priority in my role as your Congressman. I have introduced the CREATE Jobs Act, which will make American corporations competitive again by encouraging companies to keep their tax dollars and jobs right here in the United States. I have also introduced the Retirement Inflation Protection Act, which would eliminate the negative impact that inflation has on the capital gains of our seniors' investments. I am also proud to cosponsor a number of tax reform bills to look at the Fair Tax and the Flat Tax among others.
There is a lot of work to do, but I am optimistic that we will take great strides this year to ease the tax burden on you, and all families and businesses across this country. Ronald Reagan once said, "My friends, don't you believe that our taxes are too high, too complicated, and utterly unfair?"
I sure do, so rest assured I'm ready to work with my Congressional colleagues and the Trump administration to change that.