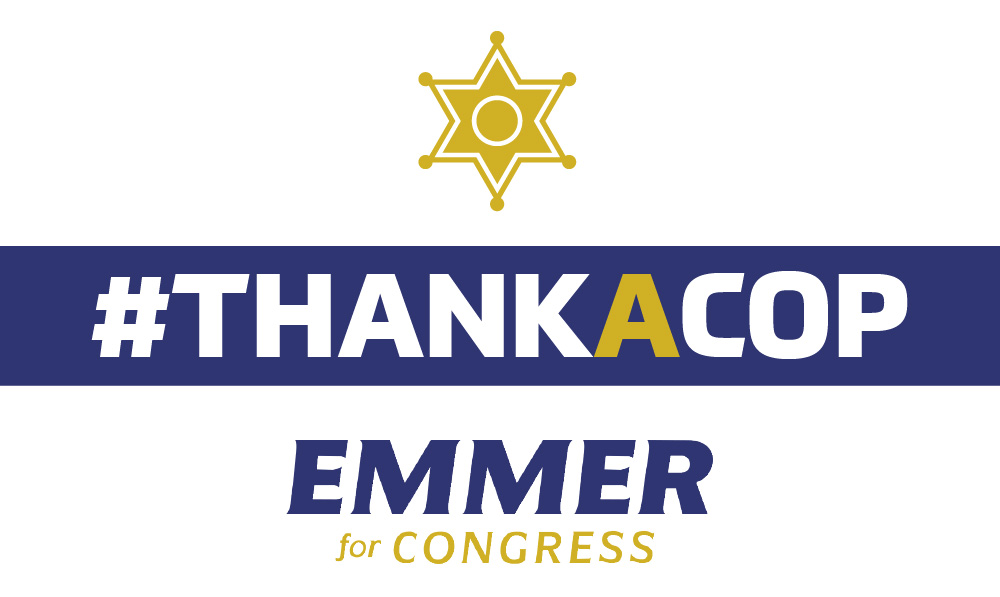 Deputy Josh Langr, Waseca Sheriff's Department
Deputy Josh Langr of the Waseca County Sheriff's Department recently returned to work after a traumatic accident in which he was electrocuted last October. As a 15 year veteran of the Sheriff's Department, he served eight years as a jail custody officer and then seven years as a patrol deputy.
On October 23, Deputy Langr received a call about a single vehicle which had crashed and rolled over on County Road 4 near the intersection of 33th Avenue in Waseca. When he arrived at the scene, he located the vehicle immediately, began to assist the 15 year old girl who had been severely injured when she was thrown from the truck, radioed the helicopter to let paramedics know they would be able to land at the scene of the accident, and contacted the state troopers to begin an accident report. However, he did not realize that one of the power lines had fallen when the pick up truck hit the post. When he stepped on the downed power line, 14,000 volts of electricity were sent through his body. Deputy Langr was knocked to the ground, immediately began convulsing and seizing, and was given ketamine by paramedics – which saved his life. Fortunately, the chopper he called for was already on the way and airlifted him – along with the crash victim – to Hennepin County Medical Center's Burn Center.
Deputy Langr said he does not remember being electrocuted, but when he woke up three hours later, he didn't know where he was. He had severe fourth degree burns throughout his body, including in the muscle of his feet and his skull.
Deputy Langr spent three weeks at HCMC and had multiple surgeries and a skin graft before being able to join his wife Kelly and their two young children at home for Christmas. Since October, he has made a miraculous recovery which, according to his friends and family, was made possible by his positivity. And despite the 14,000 volts of electricity his body endured, Deputy Langr's doctors have not discovered any neurological or organ damage. They believe that the shock traveled around his brain and heart muscles, in effect saving his life.
Deputy Langr said that his recovery was not the only difficult thing that resulted from that night in October. The 15 year old girl who Deputy Langr attempted to help before he was electrocuted did not survive the crash. Deputy Langr said that law enforcement officers always remember the lives they've saved and those they've lost, and he looks forward to doing everything he can to save lives in the futures. "You're obviously here for a reason. That's the only way to say it. It's the only way to explain it, to be told not yet, God said not yet, keep going," Deputy Langr said.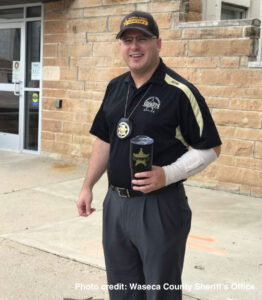 Despite some lasting pain from the accident, he returned to the Sheriff's Office on modified duty on July 7, began full time duty again on August 14th after the Waseca community threw him a surprise welcome back party, and just had his first full solo day on September 7 out on patrol helping a motorist who had hit a deer.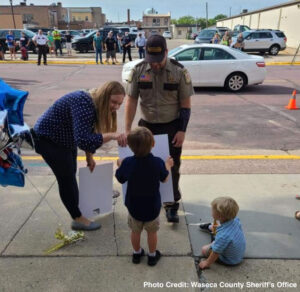 Deputy Langr remains positive despite the last year: "Life is a gift and you can't waste it. If you get a second chance, be positive and push forward." he said. We have no doubts he will continue to recover and heroically serve Waseca and its surrounding communities. Thank you, Deputy Langr, for all you have done and will do for your community. We are forever grateful.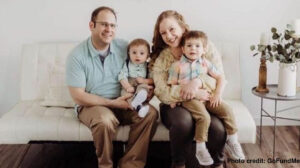 Friends of the Langr family have set up a GoFundMe page for the family here. If you are interested in financially supporting Deputy Langr in his continuing recovery, this is the best way to do so.
In gratitude,

P.S. We want to hear from you! If you have an officer to highlight or a story to #ThankACop, please do not hesitate to share it with us at [email protected].