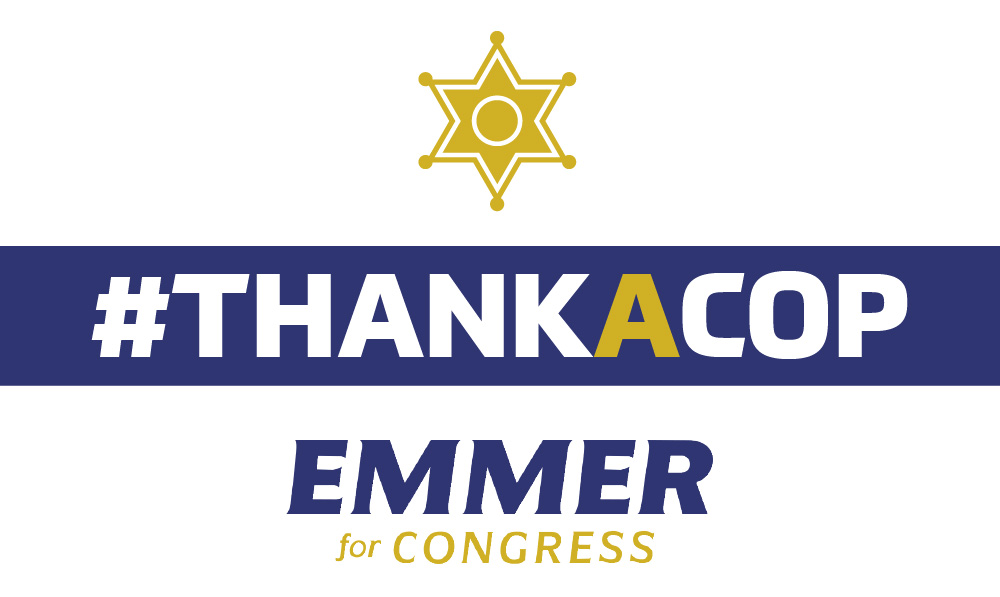 Benton County Sheriff's Office: K-9 Handler Deputy Brad Kadlec
Today I'm sharing with you one part of the phenomenal work the Benton County Sheriff's Office is doing to keep our community safe. As I have often said, police work is unpredictable and therefore dangerous, and we remain grateful to all the officers like Deputy Kadlec who put their lives on the line for us every day.
Last week, the St. Cloud Times shared a story about Deputy Brad Kadlec and the K-9 he currently handles, Ragnar. However, Deputy Kadlec has been with the Benton County Sheriff's Department for eleven years, and he has worked with many K-9s to keep the communities in Benton safe.
The St. Cloud Times story covered a very early morning traffic stop last Monday. Around 12:30 AM, St. Cloud Police Officers attempted to arrest a suspect connected to a felony warrant for a controlled substance violation. However, after pulling over, the suspect exited his vehicle and ran away from officers at which point Deputy Kadlec and K-9 Ragnar were brought to the scene. They were able to apprehend the suspect as well as controlled substances around 2:30 AM without anyone suffering major injuries.
Ragnar came to the Benton County Sheriff's Office in 2016 from Slovakia and was assigned to Deputy Kadlec who not only named him after reviewing 1,200 suggestions from the public but also worked hard to help Ragnar graduate from his initial training at the top of his class. The day after he graduated, Ragnar was recognized for helping to apprehend a DWI suspect from Montana who fled on foot after a dangerous vehicular chase. Deputy Kadlec is still responsible for the ongoing training that makes Ragnar the department asset he is today. Earlier this month, Deputy Kadlec earned both narcotics and patrol recertifications for Ragnar, a process which has to be completed once a year.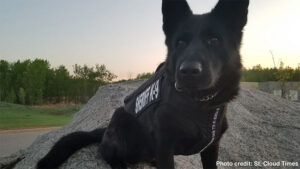 Deputy Kadlec has worked with K-9s for years, and a few years ago he was recognized with his then-K-9 partner Ben who worked for the Benton County Sheriff's Office for 10 years. In 2016, Ben had to retire as a companion to the Kadlec family due to an injury, but over the course of his career, he found drugs, evidence, suspects, and dangerous criminals. He even found a missing child in a corn field.
In 2016, Deputy Kadlec and Ben received the Region 7 Patrol Case of the Quarter award for their work in assisting the Sauk Rapids Police Department with a burglary in progress. Even though officers established a perimeter around the house, the burglary suspect fled and was apprehended by Ben when officers found he possessed a gun and a knife. This is yet another example of a situation that could have ended tragically if not for the professionalism and skill of Sauk Rapids Police, Deputy Kadlec, and his K-9.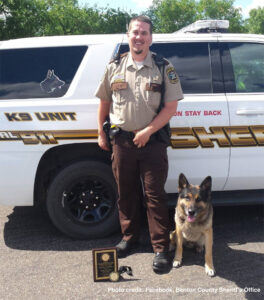 Deputy Kadlec said he enjoys his work with K-9s: "It's so fun. You have a partner who always wants to go to work." He also shared the best part of working with K-9s: "You get into this job to help people. And what's cool about having a K-9 is you get to help the police and citizens of the same time."
Thank you, Deputy Kadlec, and all K-9 handlers for not only your dedication and patience in training your K-9 partners but also for the work you do at every hour of every day to ensure public safety!
In gratitude,

P.S. If you have a #ThankACop story to share or an officer to highlight, please email us at [email protected]. We look forward to hearing from you!