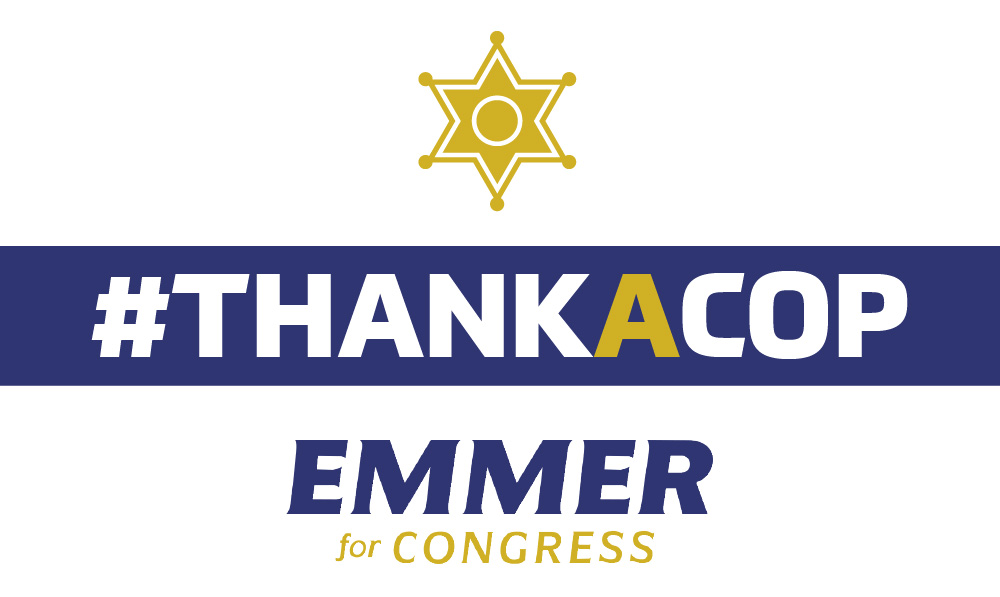 Law Enforcement Highlight: Blaine Police Department K-9 Rex
Over the past four weeks, we have recognized officers, police chiefs, and a 911 dispatcher. But K-9 units are also an important part of the work police departments do to keep their communities safe, which is why we're recognizing a member of Blaine's K-9 unit this week, Rex!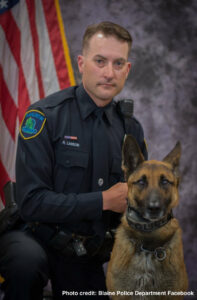 Rex, a Belgian Malinois, came to the Blaine Police Department eight years ago from the Czech Republic when he was just 13 months old.
Rex and his handler, Officer Reginald Larson, officially began their work in Blaine on July 29, 2012 after Rex completed his training as the top dog in a U.S. Police Canine Association final test. He also passed his narcotics detector test about a week prior. Rex was the second K-9 added to the Blaine Police Department. He joined Remy and his handler, Officer Mark Allen.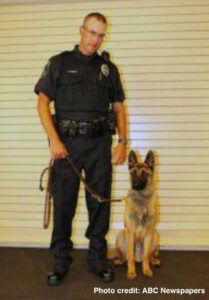 In 2017, Rex competed in the USPCA Narcotics Detection Trial in Winona, Minnesota. He placed first out of 80 canines for indoor searching, scoring 198.7/200.
In 2018, the K-9s were deployed 208 times, helped with 41 felony arrests, and had a tracking success rate of 40% (US average is 20%; the gold standard is 44%). They also performed 16 demonstrations to 346 children and 297 adults, 8 school sniffs, and assisted with 15 of the drug task force's search warrants. In the winter of 2018, Rex miraculously found a nine year old child who had been missing outside in the elements for over an hour. Rex also found one pound of meth during a vehicle sniff, and Remy found over two pounds of marijuana during another vehicle sniff. That same year, Remy placed third in the US Police Canine Association's Region 12 Narcotics Trial's vehicle search, and Rex and Remy together placed third as department team. Additionally, Rex won third overall in agility.
In 2019, Remy and Rex placed second as department team, and Rex placed fourth overall. Rex and Officer Larson also won the USPCA's 2019 Region 12 Patrol Case of the Year, and they are currently finalists for this year's award.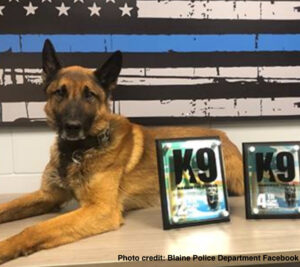 Last week, ABC Newspapers reported on a recent award ceremony that the Blaine City Council held for Officer Larson and Rex at their August city council meeting. In 2019, after an officer-involved shooting with the Coon Rapids and Blaine Police Departments, Rex and Officer Larson were called to the scene and fortunately able to save the lives of multiple officers:
"On Aug. 18, 2019, the Coon Rapids Police Department stopped a vehicle near Highway 10 and Foley Boulevard Northwest in Coon Rapids. The male suspect complied with officers' orders to exit the vehicle. He then became confrontational when officers attempted to frisk the suspect.
The suspect then suddenly ran from officers, turned around while fleeing and fired on officers who then returned fire in response, recounted Blaine Police Chief Brian Podany at the City Council meeting. Podany arrived on the scene and assisted Coon Rapids police officers later during the incident. Larson was at his home nearby when he got the call that shots were fired. He was 30 minutes away from leaving for a two-week vacation in the Caribbean. Instead Larson grabbed Rex and responded to the call.
Larson and K-9 Rex arrived on scene and started tracking the suspect for over half an hour. The suspect was tracked to the backyard of a home not far from the traffic stop. Larson said Rex was so focused tracking the suspect he rammed his head right into the gate of a privacy fence. The suspect was located on the other side of the fence tucked up behind a home. Larson said he made the difficult decision of sending Rex into the backyard alone. Rex quickly located the suspect and bit down on his leg, disarming him, but the suspect didn't make any noise.
Larson and his team of other officers didn't hear the suspect nor did Rex respond to any calls, making the officers nervous. The team ultimately decided to enter the backyard armed.
'I knew my dog was going to find him, because Rex has a reputation in this county and in this state for being extremely proficient at finding bad guys, and I just had a feeling that I was just going to have to get in a gun fight that night,' Larson said.
The team located the suspect, who was attempting to get Rex off his leg. The suspect then found his gun on the ground and raised it toward the police officers, who then shot and killed him in response. 'I know this dog saved my life that night and my partners,' Larson said, getting choked up.
'The important thing about this is the suspect fled for about half an hour prior,' Podany said. 'The suspect came back to the scene and was working his way back to the traffic stop. … I have no doubt in my mind that night that he was coming back to ambush those officers who were still standing at that traffic stop. So if it wasn't for our partner right here [pointing to Rex] we'd have multiple dead cops on our hands, probably, as we speak.'"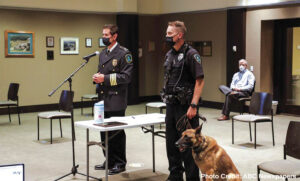 In addition to being recognized by the Blaine City Council following this incident, they were awarded a Medal of Valor from Anoka County as well as the USPCA's 2019 Region 12 Patrol Case of the Year.
Thank you, Rex, for your service. Coon Rapids and Blaine would be different places without your skill, bravery, and dedication to safety.
You can read more about Blaine Police Department's K-9 program at https://www.blainemn.gov/faq.aspx?TID=18.
In gratitude,

P.S. We want to hear from you! If you have a story to #ThankACop, please do not hesitate to share it with us at [email protected].