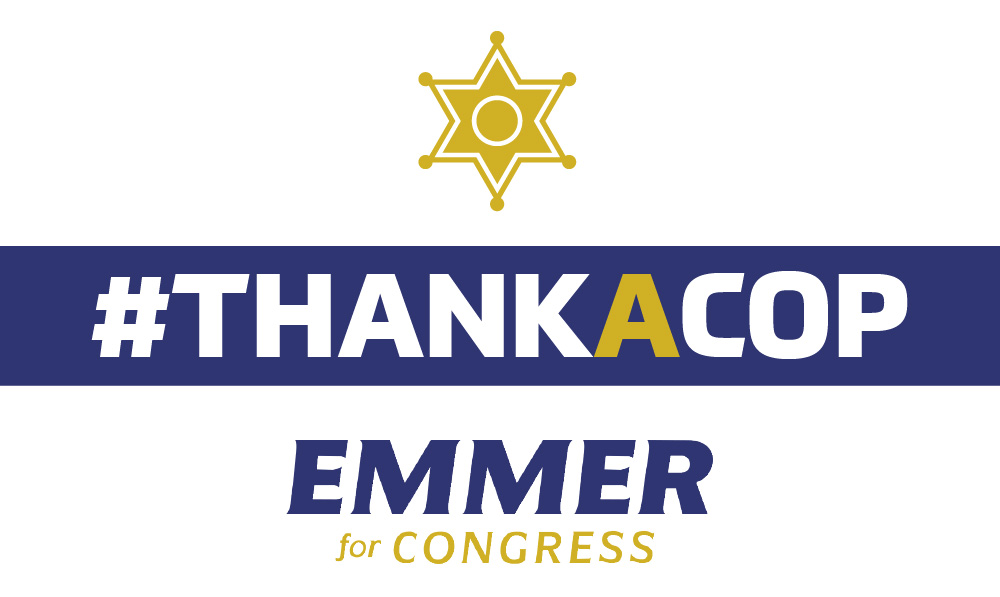 Law Enforcement Highlight: Waite Park Police Chief Dave Bentrud
Waite Park, Minnesota Police Chief Dave Bentrud began his life in Glenwood, a small town in west-central Minnesota. Having lost his father when he was nine and his mother when he was 16, he knew at an early age that he wanted to do something to help people, particularly helping kids deal with adversity. Chief Bentrud's journey took him to St. Paul, Minnesota, where he earned his criminal justice degree at the University of St. Thomas.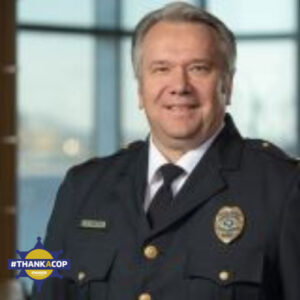 Unfortunately, family circumstances kept him from pursuing his dream right away out of college. Chief Bentrud spent roughly 10 years in the private sector in various jobs, including serving as a loan officer and stockbroker. While Chief Bentrud said he does not regret those experiences, he knew he needed to follow his heart and get back into law enforcement.
He began his law enforcement career with the St. Cloud Police Department (SCPD) where he spent 16 years doing patrol work, working as a school resource officer, including work with the Drugs and Alcohol Resistance Education (DARE) program, and St. Cloud Special Weapons and Tactics (SWAT). He eventually earned his way to becoming a sergeant. In 2008, Chief Bentrud came to the Waite Park Police Department (WPPD) and took on his current role as Chief of Police.
Chief Bentrud is incredibly proud of the work his agency, in collaboration with other jurisdictions and disciplines, has done in the fight against human trafficking. This collaborative work has led to the establishment of the Central Minnesota Human Trafficking Task Force, an investigative task force made up of officers from the WPPD, Stearns County Sheriff's Office, and the SCPD. The City of Waite Park has also partnered with Terebinth Refuge to establish a safe house for trafficked women, the first of its kind in Minnesota for adult women. Through his many presentations, often with Stearns County Attorney, Janelle Kendall, Chief Bentrud has helped educate community members at various businesses, churches, chambers of commerce and more. He aims to remind community members that sex trafficking is more than a big city problem and educates them on how children get recruited into the lifestyle and how parents can protect their kids.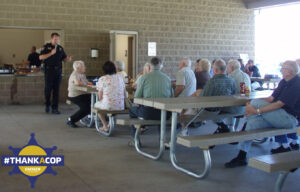 Going forward, Chief Bentrud wants to continue his efforts around building relationships and community trust, particularly with members of the minority communities. Throughout his career with the SCPD and the WPPD, the Central Minnesota region has had a strong tradition of working with the local National Association for the Advancement of Colored People (NAACP) and other community groups to improve the quality of life of all people. As the current president of the Minnesota Chiefs of Police Association, Chief Bentrud is very interested in expanding the trust-building work across the state of Minnesota.
"The more we understand all parts of our communities, the better we'll do our jobs," Chief Bentrud said.
He said the police profession continues to evolve in how they do their job, particularly how they respond to calls. They are actively working on the development of a multi-jurisdictional co-responder program where a licensed police officer responds with a licensed mental health practitioner on mental health crisis calls. In those cases, the officer acts as the liaison between the subject and the mental health professional. While officers are required to train in crisis response, Chief Bentrud said it's important to have a trained professional on these calls as well. He has been pleased to see the level of collaboration that exists between CentraCare, the Central Minnesota Mental Health Center, Stearns County Human Services, law enforcement, and others.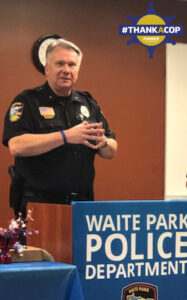 Considering recent events, Chief Bentrud wants to remind people that most of the men and women who serve our communities in uniform are doing so for the right reasons and with the right motives, and that the entire law enforcement profession needs community support, especially right now. He said that today, law enforcement departments are facing significant recruitment and retention problems. He hopes those like him, whose hearts belong to law enforcement, and who desire to give back to their community and serve with passion, will continue to pursue their dreams of serving their communities.
Thank you, Chief Bentrud, for everything you have done and will continue to do to lead your department and keep our home state safe.
In gratitude,

P.S. We want to hear from you! If you have a story to #ThankACop, please do not hesitate to share it with us at [email protected].