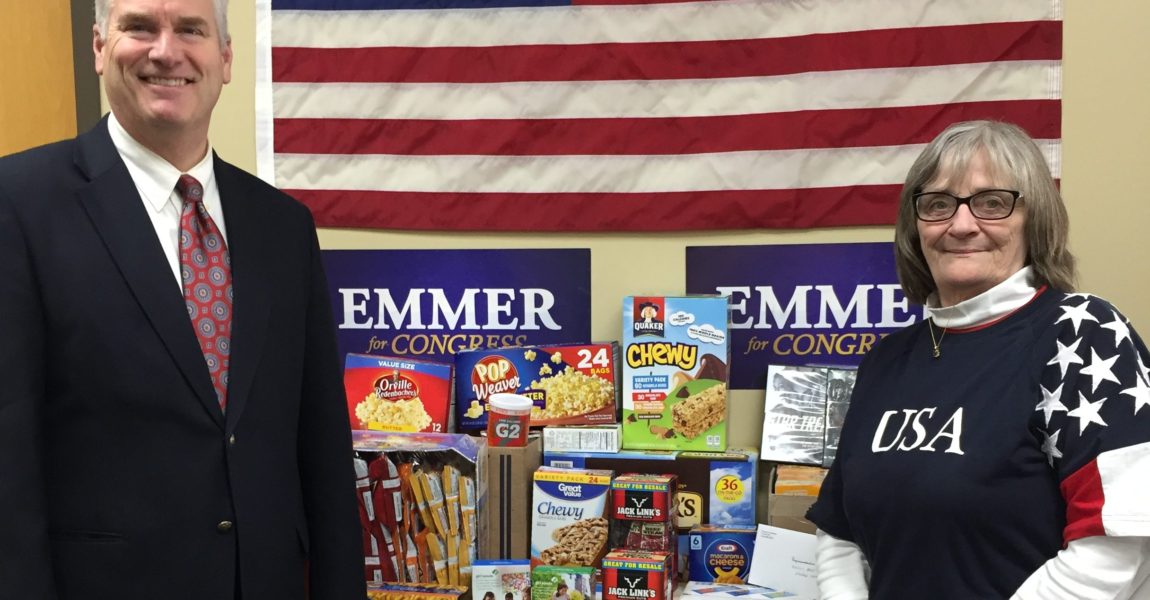 Otsego, MN – Today, Congressman Tom Emmer (MN-06) met with Becky Carlson of Saint Cloud to donate items collected for her Troop Care Package Project.  The snacks, activities and personal care items were donated by Republican activists at local conventions during the late winter.
"Our community is fortunate to have someone like Becky willing to serve those who serve all of us," said Congressman Emmer. "On behalf of all who donated, we're glad we could contribute in some small way."
In thanking the Congressman for organizing the collection drive and raising awareness of the demands placed upon deployed military, Carlson said, "you touched a lot of hearts today."
Becky's Troop Care Packages is a non-profit organization that sends monthly care packages to troops deployed to foreign nations as part of their service to our country.  She includes a hand written note with every package to express gratitude for their sacrifice and have been sending monthly packages for over 14 years.  In July 2014, Carlson received the "Eleven Who Care" Award from Kare 11.
For more information on Becky's project, visit www.facebook.com/beckystroopcarepackages
###